The Pan-European Chapter of the Alliance for a Cavity-Free Future (ACFF) recently marked its five year anniversary. To celebrate this occasion, they highlighted the important recent milestones in their journey towards achieving their goal and ensuring that each child born after 2026 remains cavity-free throughout their lifetime.
A brand new communication tool, the Win Cube, was also brought to life at these discussions. Developed by the ACFF and the Policy Institute at King's College, the Win Cube clearly identifies the six groups of stakeholders that must be considered to work effectively towards the complex goal of a Cavity-Free Future:
Governments and health systems
Dental teams and providers
Patients and the public
Payers and insurers
Producers of professional guidance
Dental and other industries.
The Win Cube It is a dynamic method of helping multi-disciplinary groups to discuss and implement next steps, with the aim of speeding up the policy shift towards caries prevention and control globally.
Explaining the significance of the Win Cube, Professor Nigel Pitts, Director of the Dental Innovation and Translation Centre (DITC) at King's College London Dental Institute, London, UK and co-chair of the ACFF Pan-European Chapter, said:
To achieve a cavity-free world by 2026 we need to involve all stakeholders. The Win Cube visualises this multi-faceted approach. We are working together with all ACFF members and contributors on how we can accelerate the process of a holistic prevention model towards all patient groups to secure effective caries prevention and management.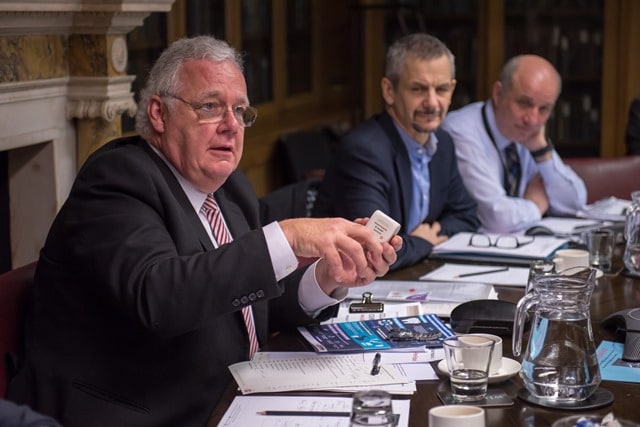 Significant progress is already being made on a number of new fronts:
The ICCMS™ Coordinating Committee supports the use of the Cube and is now developing a more General Dental Practice-friendly version of its International Caries Classification and Management System taking into account all stakeholder perspectives
Examples of budget reallocation from treatment to early and preventive treatment, are being highlighted by University of Porto, Portugal
The Health Economists Policy Lab Consortium is working on an appropriate methodology to address the Policy Lab agenda.
Office of the Chief Dental Officer England is sharing experiences on piloting hybrid capitation models of paying for prevention.
King's College London Dental Institute has agreed to promote Minimally Invasive Restorative Care (MI-RC) globally to all six types of stakeholders.
More information about the Win Cube can be found in the report about the outcomes of the Policy Lab, available at http://www.acffglobal.org/towards-cavity-free-future-policy-lab-report-published/
The five year anniversary of the Pan-European ACFF united multi-disciplinary experts in a vision to make a cavity-free world after 2026 a reality
The Pan-European ACFF Chapter was founded in London in 2013 with the support of Colgate-Palmolive. The Chapter is now bringing together European experts to mark its fifth anniversary meeting by revisiting its 'birthplace' in London to review the important strides made towards achieving its mission.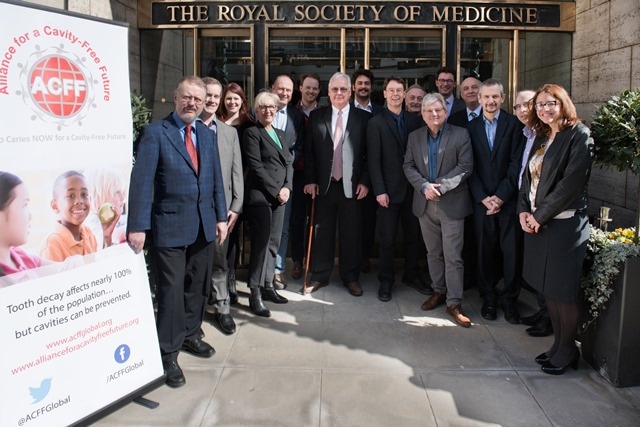 A landmark year has seen the ACFF produce a clear map of the steps required to accelerate the shift toward a greater focus on preventative dental care. This was generated at ACFF's ground-breaking Policy Lab workshop in June 2017 at King's College London, bringing together experts from multiple professional disciplines to evaluate how to achieve the required steps towards a change in policy and resource allocation.
The fifth 'anniversary' meeting gives the ACFF's Pan-European Chapter a perspective on the wide-ranging impact its work has already had on policy, education and public health. Not least of these achievements is the imminent publication of the 'Brussels Statement' in Community Dental Health Journal, which was made available online from November 2017. It sets out the future needs for caries epidemiology and surveillance in Europe and was co-developed with the Platform for Better Oral Health in Europe and the European Association of Dental Public Health. A second Policy Lab event will be organised in 2018, involving insurers and other financial stakeholders.
The Alliance for a Cavity-Free Future (ACFF), a non-profitable charitable organisation, is a group of worldwide leading dental experts who have joined forces to help implement changes to dental health practices across the globe. The aim of the Alliance is to promote initiatives to stop the development and progression of dental caries in order to move towards a Cavity-Free Future for everyone. The ACFF is supported by Colgate-Palmolive Company, which promotes improved oral health through its partnerships with the dental profession and government and public health agencies.