The next generation toothpaste for Whole Mouth Health – pathway to everyday prevention
Colgate® announces the launch of its next generation Colgate Total® toothpaste designed to proactively protect hard and soft oral tissues – tongue, teeth, cheeks and gums – against the most prevalent oral diseases: gingivitis and caries.
Periodontal disease and caries are both preventable in their early stages (Gingivitis and White Spot Lesions, respectively). Yet, despite the efforts of the dental profession to improve oral hygiene, these diseases continue to be a public health concern, with up to 50% of the global population estimated to be affected.1,2 Moreover, patients are looking for guidance and support from their dentist to make sure they are being as proactive as possible for better oral health.
Reducing periodontal disease and caries offers societal benefits
Reducing the incidence and prevalence of caries and periodontal disease has the potential not only to improve health and wellbeing in the general population, but also to reduce the growing financial pressure on publicly funded healthcare systems.3 The economic burden of these untreated diseases is likely to increase due to population longevity which is an important aspect to policy makers.3,4 Attention has focused on controlling bacteria in dental plaque, while the value of Whole Mouth Health has been underestimated.
Whole Mouth Health and the role of dental biofilm
The concept of Whole Mouth Health is based on the importance of achieving more than just healthy teeth – all oral tissues need to be healthy. Teeth, the hard tissue, account for only 20% of oral structures, while the soft tissue, tongue, cheeks and gums represent the 80% majority. To retain a healthy mouth, protection of all surfaces is needed.
Disrupting the cycle
Bacteria can colonize on the teeth, initiating the formation of dental biofilm, but they also adhere to soft tissues in the mouth. From here they recolonize on the surface of teeth that have been brushed, rebuilding the dental biofilm causing diseases to reoccur. Protecting the soft tissues prevents adherence of bacterial biofilm and so protects the soft tissue and hard surfaces from bacterial colonization.
Regular fluoride toothpaste* is not enough to achieve Whole Mouth Health – it only protects hard surfaces with fluoride. Regular fluoride toothpaste* does not protect the hard surfaces from repopulating with bacteria harbored in the soft tissues.
Whole Mouth Health as the new paradigm for prevention
The route to improving Whole Mouth Health is to prevent the build-up of oral biofilm and achieve good bacterial control on all oral surfaces, both hard and soft tissues.
The best way to achieve this is having an everyday prevention routine with the daily use of a toothpaste with proven protection against bacteria – a toothpaste that can strengthen the mouth's natural defenses.
The next generation toothpaste, a clinically proven step forward in the quest for Whole Mouth Health
Decades of research have led to the development of a patented formulation for new Colgate Total®. This advanced toothpaste helps achieve Whole Mouth Health with a new technology that works with dual zinc plus arginine to provide proactive protection to the whole mouth, and help prevent the most relevant oral diseases and conditions.
A toothpaste designed to work with the chemistry and biology of the mouth
The formulation of dual zinc plus arginine effectively controls biofilm, through:5
Weakening to kill bacteria by interfering in bacteria metabolism and reducing their nutrient uptake
Slowing bacterial growth
Enhancing soft tissue's natural defense with a protective barrier that adheres to tongue, teeth, cheeks and gums
Clinically proven whole mouth antimicrobial protection
Studies show that new Colgate Total® reduces bacteria on teeth, tongue, cheeks, and gums (TTCG) by up to 38.3% on Teeth, 39.7% on Tongue, 35.4% on Cheeks, and 25.9% on Gums.6,**†
Clinically proven to reduce plaque and gingivitis
New Colgate Total® is clinically proven to reduce plaque (by 30.1%; p < 0.001) and gingivitis (by 26.3%; p < 0.001) when compared to ordinary non-antibacterial fluoride toothpaste after six months.7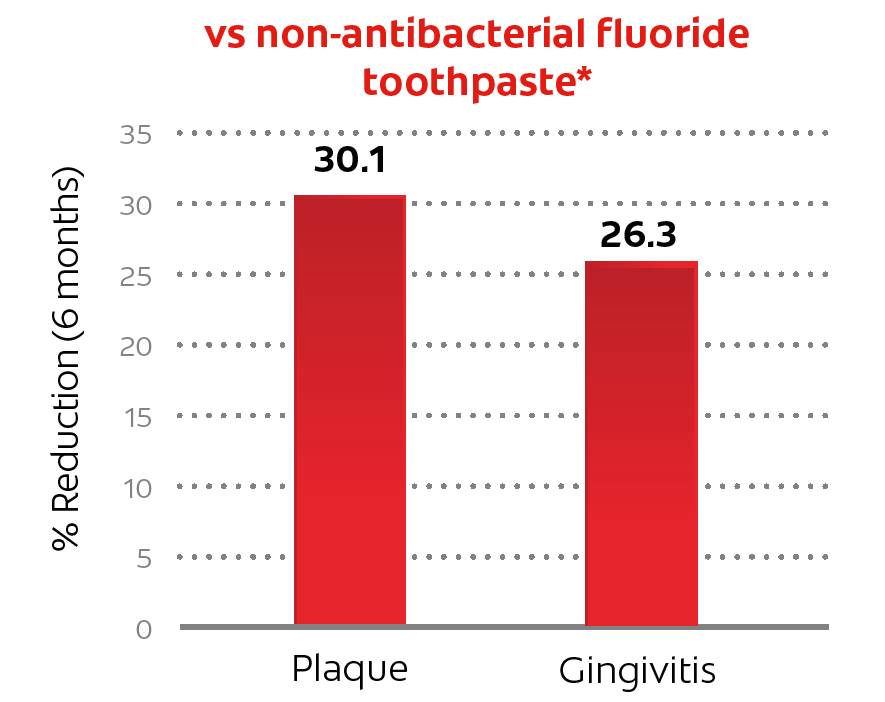 New technology

New Colgate Total® – proactive protection for Whole Mouth Health
Prevents tooth decay/cavities
Superior plaque reduction†
Superior reduction in gingivitis†
Superior reduction in gum bleeding†
Fights bacteria to keep breath fresh
Superior reduction in sensitivity†
Superior reduction in tartar†
Reduces stains and stain intensity
Protects against erosive damage
Helps repair weakened enamel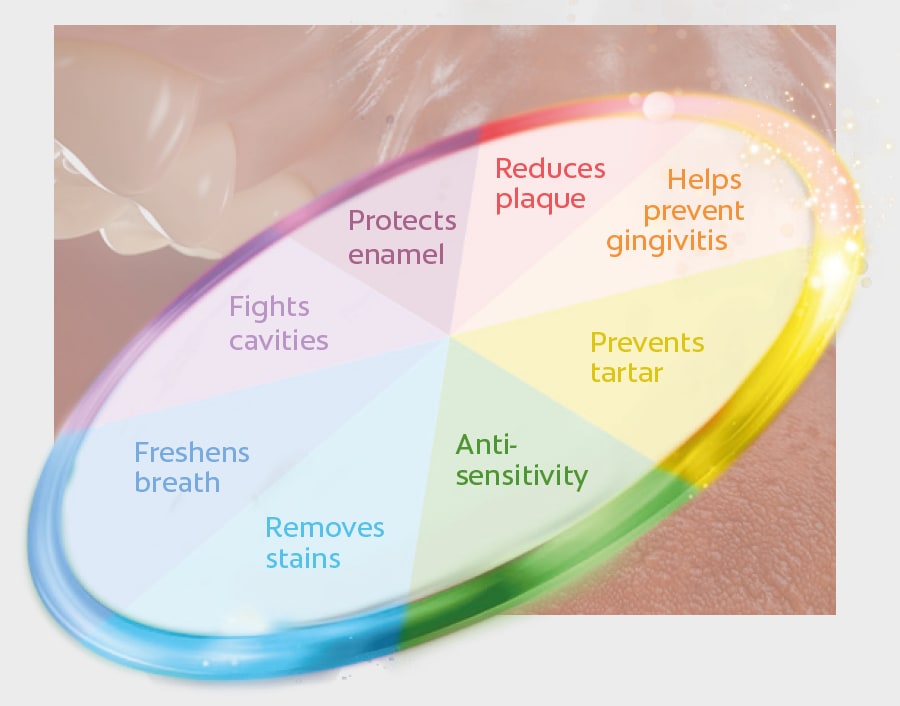 Additional benefits:
Long lasting freshness8
The fluoride level meets with the international standards for toothpaste efficacy in caries prevention
New Colgate Total® is the advanced way to achieve Whole Mouth Health by proactively controlling and protecting against bacteria on 100% of mouth surfaces, Teeth, Tongue, Cheeks and Gums.
By recommending new Colgate Total® to your patients, they will have an advanced single solution for better, more complete oral health.†
---
* defined as non-antibacterial toothpaste
** after 4 weeks use, 12 hours after brushing
† vs ordinary non-anti-bacterial fluoride toothpaste
# with continuous use, after 3 weeks
References:
1 Nazir MA, Int J Health Sci (Qassim). 2017 Apr-Jun; 11(2): 72–80.
2 Kassebaum NJ, Journal Dent Research 2015, Vol 94, Issue 5.
3 Perio & Caries Project. Available at: http://www.efp.org/publications/projects/perioandcaries
4 Tonetti et al, J Clin Periodontol 2017;44 (Suppl. 18): S135–S144.
5 Manus L et al, J Clin Dent, 2018;29 (Spec Iss A).
6 Prasad K et al, J Clin Dent, 2018;29 (Spec Iss A).
7 Delgado E et al, J Clin Dent, 2018;29 (Spec Iss A).
8 Lee C et al, J Clin Dent, 2018;29 (Spec Iss A).
9 Hu D et al, J Clin Dent, 2018;29 (Spec Iss A).