One of the biggest challenges a dental professional encounters on a day-to-day basis is effective patient communication. As healthcare practitioners, we are educated in a dentist-to-dentist or hygienist-to-hygienist fashion, where dental jargon is useful and common practice. For patients, however, technical terms like subperiosteal, sulcus or even gingivitis can be a lot to tackle. Understanding our patients' oral health literacy is the first step to helping them succeed in their own oral care.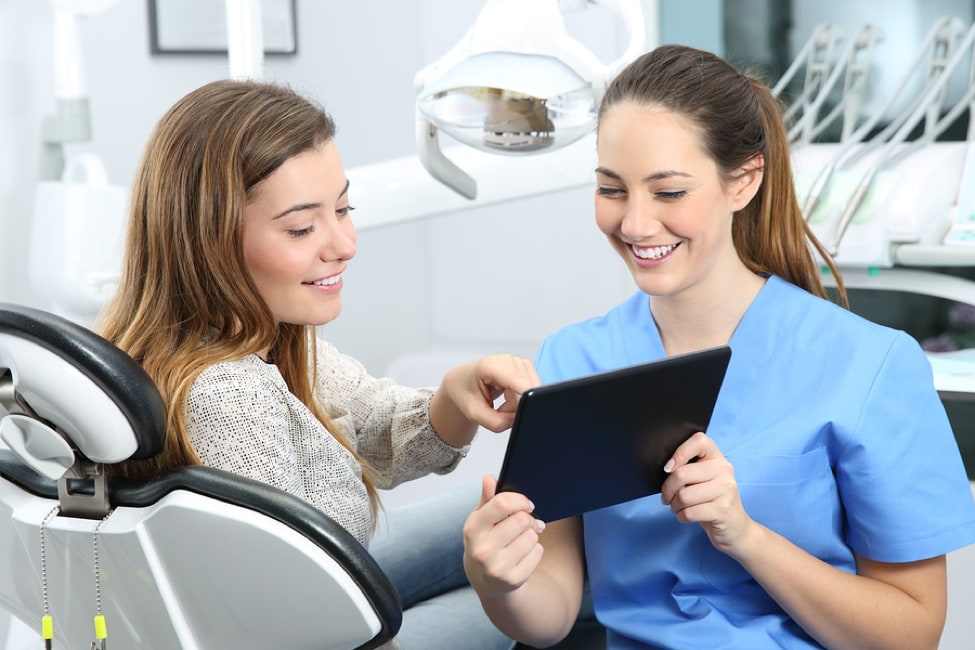 3 Tips to Improve Your Patients' Oral Health Literacy
When we take our expertise to our patients, we are met with varying education levels and levels of comprehension. If we talk at too high a level for patients to understand, we put them in the uncomfortable position of feeling less intelligent if they need to ask questions or have a difficult time understanding. If we talk in overly simplified terms, it can seem belittling. So how do we meet our patients where they are? Read on for three tips for better patient communication to help improve your patients' oral health literacy and hopefully, also their overall health.
Ask Questions
The most impactful thing we can do to engage our patients in a low pressure, effective way is to find out more about their perspectives. By asking questions in a clear, unassuming manner, we allow patients to direct the conversation in a way that is easily digestible to them. Ask your patients if they have heard of the procedure you're recommending. Some may know what a crown is; some may have no idea. Some patients may be feeling anxious and need a more thorough explanation, while other patients may not want to hear the gum-to-bone anatomical details. If you don't ask questions, your patients may nod and smile to appear confident and knowledgeable even when they're not. Taking the time to show them that you care about their uncertainty can help empower them to use you as a resource.
Take Photographs

It's very easy for patients to comprehend something if they can see it. If someone is building up an unusually high amount of calculus around the lower anterior teeth, show them a photo as you make your recommendations for at-home care. If there is a cracked tooth around an old amalgam restoration, show them a picture of where the cracks are and explain why the tooth is in jeopardy. A very effective way to find out what patients do or do not understand about their mouth is to show them a photo of their dentition and ask if there is anything they'd like to know!
If your practice is outfitted with the latest technology, you can make visual aids more interactive with augmented reality and virtual reality. Additionally, #ColgateTalks has an extensive library of patient education videos that you can share with your patients.
Ask Your Patients to Repeat Your Action Plan
After you've discussed care recommendations together or thoroughly described an area of concern in your patients' mouth, ask them if they can tell you what they've learned and what their next step should be. You'll either find your patients have understood what you've discussed with them and can easily repeat it, or they stumble over a step and could benefit from another review. Be supportive if someone in your chair needs multiple explanations. Confirming that your patients know what's happening in their mouth can give you confidence in their ability to manage their oral health and make good decisions after they've left your office.
When it comes to oral health literacy, it's important to take off your expert hat and remember that dental terminology is cumbersome and confusing. What is commonplace to us may be overwhelming for our patients. There are patient education resources outside of your office that can help, too. But when they're in your office, asking questions, taking photographs and having your patients participate in the conversation about their oral health can immensely improve the effectiveness of your treatment.